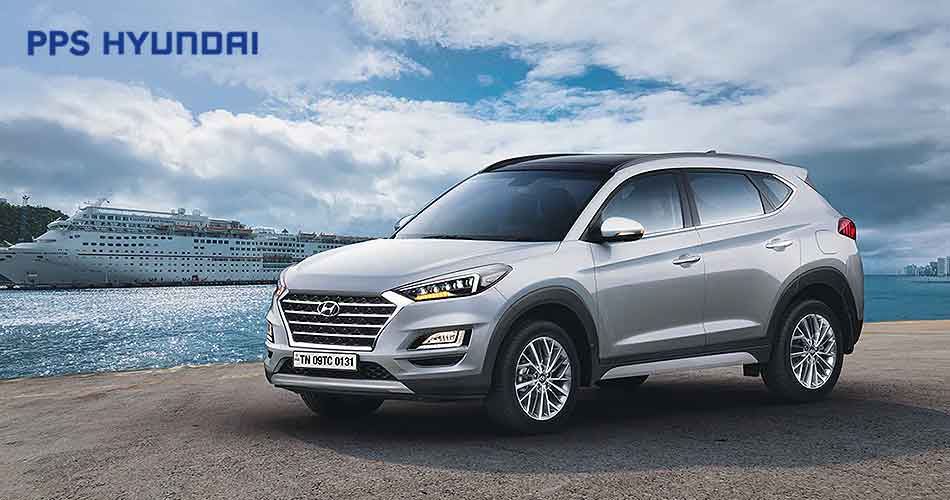 Hyundai Tucson Facelift – Drive with Passion
Do you know that Tucson is the highest-selling SUV of Hyundai, till date Hyundai has sold more than 7 million units of Tucson, if you are planning to buy a Hyundai Tucson then let us tell you that you are on the right page where we are going to give you an inside out about this though robust SUV. The All-new Hyundai TUCSON represents a design revolution. The SUV is elevating contemporarily designed to a new level with its sophisticated and forward-thinking elements.
Definitely an innovative SUV design with cutting-edge technologies.
The All-new Hyundai TUCSON represents a design revolution that has the ability to alter how people view a high-end SUV. Its eye-catching appearance creates a strong and daring road presence. The brand-new Hyundai TUCSON is designed to meet and surpass the expectations of modern luxury seekers and those who actively welcome incorporating cutting-edge global technologies, stunning contemporary design, and captivating performance into their daily lives.
PPS Hyundai is renowned for its customer-focused culture and knowledgeable staff, who help you by providing the best recommendations for your preferred Hyundai Car purchase. The certified and reputable PPS Hyundai Dealers in Kochi guarantee an unforgettable Hyundai Car buying experience.
Tucson Exterior Highlights             
The most highlighting element of the Hyundai Tucson facelift is its Penta Projector LED Headlamps, as the name indicates it is equipped with 5 projectors with the source being LED. These certainly look very attractive and are very effective with 2 of the side projectors being low beam and the rest 3, high beam. It is worth noting that the cornering lamps light up according to the position of the steering, giving a clear view of the sides of the road making it really convenient for the lucky one driving this car. 
Let's Step Inside Hyundai Tucson         
The All-New Hyundai TUCSON design is made for those who are achievers and are constantly thinking about what they can do next. It personifies revolutionary dynamism, modern elegance, intelligent technology, and future readiness. The finish line is just the beginning for this group of high flyers since "Next drives Now." The brand-new Hyundai TUCSON is the ideal mode of transportation for customers thanks to its distinct features and individuality.
There is quite a significant change on the inside of Tucson with the all-black interior colour scheme accompanying an entirely new curve and sculpted dashboard with a nice soft leatherette effect, housing loads of new features including a free-standing touchscreen which gets easily connected to its Car tech. It's a very practical cabin with loads of storage spaces, a wireless charger, a new infinity-edge sound system, and a panoramic sunroof. While space and comfort have always been the strengths of Tucson, the back seat gets plenty of knee and legroom space with loads of width accompanied by recline function for that extra comfort. Boot Space too is one of the Selling Points of Tucson as it is absolutely huge.
It's time to get on the Wheels             
So, what's new mechanically with the facelift in Tucson?
Well, this time it is BS6 compliant which makes the drive pretty refined. It comes with different drive modes and they work really well. Especially talking about the comfort mode being the best for ride comfort. The eco mode helps you save a lot of fuel. Also, the sport mode, immediately makes things a lot more responsive. Even in a car as smooth as Tucson, its engine possesses a lot of Punch and you will never be left wanting for power.
With the one newer addition of the 8-speed torque converter automatic in the diesel powertrain, the performance is really impressive as the Tucson facelift reaches 0-60 kph in just 4.41 sec and 0-100 kph in 9.76 sec seamlessly.
Multi-Terrain Modes:                 
HTRAC All-Wheel Drive:              
Take the less travelled path instead of the tarmac. HTRAC does a continuous analysis of the road conditions and your speed. To provide the greatest amount of traction and directional stability, it automatically adjusts the torque distribution among the four wheels and will apply the brakes if necessary.
You can Switch to Multi-Terrain Modes:        
You can adjust the engine quickly to fit difficult driving and weather situations. For instance, the SNOW, MUD, and SAND settings make sure you have the most grip when the going becomes particularly slick.
Drive Mode Select:                     
You can select the driving mode style that best suits you. NORMAL mode is for casual daily driving. While ECO offers the best fuel economy. Faster acceleration is possible with SPORT and SMART modes. Moreover, It determines the best driving mode among ECO, SPORT, and NORMAL by analyzing the driver's driving style.
Ride Quality
It is a very comfortable car to ride in. With Tucson, all the passengers are safe and have comfort against the bumps of the road. It rolls around quite smoothly. Moreover, you can always prefer to drive it at a more leisurely pace. This makes it the most engaging SUV to drive on your favorite wandering road. Now what it excels at is highway cruising with rock-solid stability and a healthy reserve of power for overtaking.
Besides the performance, comfort, size and space do justify the pricing, you can get all geared up to experience this. Hyundai's flagship SUV is a Big 5-seater family car with loads of equipment. It is a good all-rounder where you can certainly get a whole lot of Hyundai feel.
PPS Hyundai supports you at all stages. Whether it is booking a test drive online, visiting the showroom, or purchasing your preferred Hyundai Vehicle. You can book a contact-free and hassle-free test drive online by visiting our PPS Hyundai website, for any other queries you can call us at the below number and our specialist tea will be glad to assist you.
Conclusion                   
When it comes to performance, safety, comfort, and quality, Hyundai has always been reliable. If you're looking to purchase a high-end SUV, Hyundai Tucson is for you. To learn more about Hyundai Tucson's technical specifications or features, schedule a test drive online. Also, you can visit your nearest authorized PPS Hyundai Showroom Kochi. You can also contact PPS Hyundai at +917815956903 for further assistance.