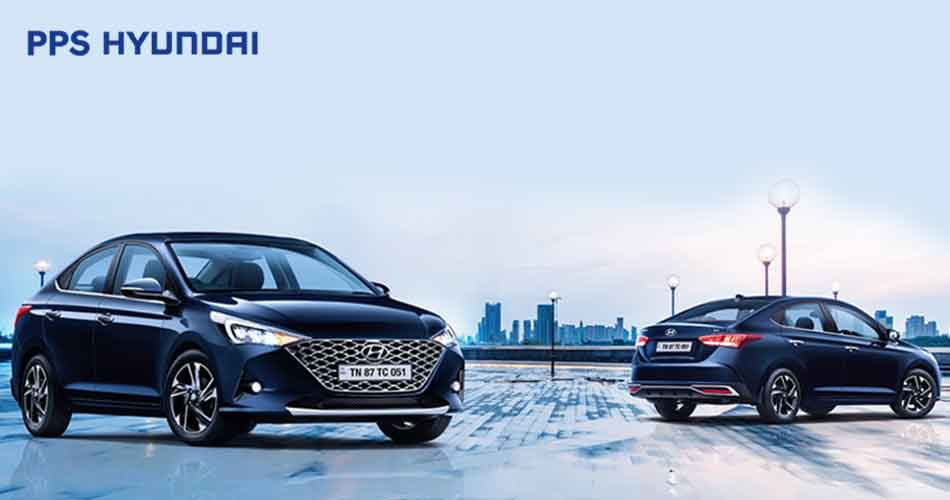 Hyundai Verna – The Sporty & Powerful Sedan
Hyundai Verna with its fluidic design, and feature-rich package has always managed to stand strong during the SUV storm always giving a run for its money. Well, the new Verna gives a fresh feel, it looks stunning and has got a new set of Engines, which is BS6 ready! The New Verna Facelift's front has that large frameless front grill dominating it, there are more cuts and creases and the fog lights are also more recessed to the chin, also the coupe-like roofline that ends with a spoiler on the boot and the new alloys make it even more stylish, the car is fabulous looking to fit most people's sedan taste.
PPS Hyundai is known for its customer-centricity and expert personnel who assist you by giving the most appropriate suggestions for your choicest Hyundai Car purchase. PPS Hyundai Car dealers in Kochi are authorized and well-reputed and assure a memorable Hyundai Car Buying Experience. Now, let us go through some significant features that Hyundai Verna offers:
Verna Breath Taking Interiors:
You will really end up liking the dual-tone black and Beigh interiors on the Verna which makes it look richer, and the new layout now in the facelift version has a tablet-like touchscreen that is not built into the Dash anymore, it's now larger which adds more convenience. It's a nice-looking interior with superior quality upholstery, the cabin area feels more open and roomier with lots of storage spaces. The seats have superb quality cushions where you will happily sync in over a long journey.
Useful Features to throw the Spotlight On:
The Verna of course has loads of highlighting and eye-catchy features like the slightly tilted wireless charging, sunroof, connected car tech, sunblind on the rear, and much more. Verna comes equipped with Ventilated seats which are a boon in the heat and also to mention a hands-free boot that's easier to use. On out-of-town trips, you will be content with how much luggage you can fit in the Sedan's 480L Boot space.
Multiple Game-Changer Engine Options:
Hyundai Verna offers 1.5-liter MPi Petrol, 1.5-litre U2 CRDi diesel, and 1.0-liter Kappa Turbo Di Petrol engine options. The Hyundai Verna Engine is very responsive and energetic, has a nice Limer build-up of power, and gets up to the speed quickly with a punch that you would expect. The clutch is lighter, the gear shifts a lot better, and the steering also feels lighter which is a boon for the city while driving in traffic. The Verna performs very well on the handling front too, taking turns is easy with lighter steering, on the highway cruising also you will feel the stability connect, even at the straight-line speed it gives you immense confidence and you will experience a fabulously composed flat ride.
Fully Digital Instrument Cluster
Instrument clusters are now a necessary component of a car's interior. Thank goodness, the Hyundai Verna has a 10.67cm Color TFT MID instrument cluster that is totally digital.
Futuristic Design
Throughout the decades, Verna has had a design that no one can match. The futuristic design language has not changed from the fluidic Verna to the brand-new energetic Verna. It sports a blood front fascia, which is distinguished by a dark chrome front radiator grille and a chrome grille. The Hyundai Verna has an unswept beltline and chrome Moulding on the sides, giving it a stylish and sporty appearance. The back part also prominently displays high-tech aesthetics. In conclusion, the Hyundai Verna boasts a futuristic appearance.
Paddle Shifters
Isn't it fantastic that there are gear shifts behind the steering wheel? Well, the turbo variation, or GDi variant, of the brand-new Verna has paddle shifters. The popular 1.0-liter Kappa Turbo GDi Petrol engine from the firm comes with a 7-speed DCT transmission in this model.
Fuel Economy:
With Hyundai Verna you certainly will not have an issue with fuel economy, in traffic city roads the Verna is capable of delivering 15.2kpl while on highways it goes up to 20kpl
Utmost Safety:
Hyundai Verna makes sure to make the occupants feel safe and hence offers a list of safety features like 4 airbags, a Rear defogger with timer, Hill Start Assist Control (HAC), ABS with EBD, rear parking sensor and camera, Emergency Stop Signal (ESS), ISOFIX Child Seat Anchorage, Vehicle Stability Management (VSM), TPMS & Electronic Stability Control (ESC) to name a few.
The above are a few strong characteristics because of which Hyundai Verna is the first choice for many. Now let us know about the variants of the Hyundai Verna:
Variants:
Hyundai Verna pricing ranges from Rs. 9.44 Lakh* (ex-showroom price) to Rs. 15.53 Lakh* (ex-showroom price). Hyundai Verna is available in 12 variations, with E being the base model and Hyundai Verna SX Opt AT Diesel being the high-end version. It is available in 4 trims E, S+, SX, SX (O)
The variants of the Hyundai Verna are as follows:
Verna E
Verna S Plus
Verna S Plus Diesel
Verna SX
Verna SX IVT
Verna SX Diesel
Verna SX Opt
Verna SX AT Diesel
Verna SX IVT Opt
Verna SX Opt Diesel
Verna SX Opt Turbo
Verna SX OPT AT Diesel
After All – It is Hyundai:
People in India have always considered Hyundai as a brand they can look up to. Hyundai has always been standard and consistent with its services. It is also known for its customer centricity, "Customers' Needs First" is their goal and they very well know how to make its customers happy whether it is in the sales or services segment. They are known for maintaining the utmost clean and fresh environment in their showrooms and service centers across the globe. Keeping their showrooms, test drive vehicles, and display vehicles fully sanitized during Covid times got them great recognition and clientele. They assure to have a healthy and hygienic environment for their staff and customers to add to their experience.
Conclusion
Hyundai has always been consistent when it comes to performance, safety, comfort, and quality. If you are planning to buy a premium sedan then Verna can be your cup of tea.  Book a test drive online visit your nearest PPS Hyundai Showroom in Kochi to know more about the tech specs or features of the Hyundai Verna, for any further queries call PPS Hyundai at +917815956903 and our specialist team will be glad to assist you.